Going global is a process for people to share with one another, to get in touch with and experience adversities of livelihood that vary from place to place. To share our own experience in the hope that the exchange and interflow of insight can help turn challenging adversities into wonderfully good life is in itself a bliss of giving something back to life.
Venerable Chan Master Hsin Tao has been on-goingly promoting the ideal of 'Global Family for Love and Peace', which strives for the objectives of the world's sustainability and global peace, and led to the formal establishment of the GFLP as an NGO. Over the years, the GFLP campaign has attracted the best talents from different walks of life to implement social services in Myanmar and promote the Master's ideal of love and peace.
With the mechanism of the GFLP and step by step, the original Lashio farm has developed from a barren lot to a multi-purpose monastery that begins to fulfill a vision that promises an all-in-one haven for meditative practice, medical services, an orphanage, an organic farm, and an educational institution. Furthermore, an exemplary Monsoon Rains Day-Care Nursery has been established in Yangon, where Mandarin Chinese is taught in the hope that the power of education will help improve life's adversities and help the heart find its way home.
The GFLP experiences in Myanmar over the years reward us with a good insight into the truths of life. With hearts at peace and the willpower of love, we take humanity for a starting point and listen carefully to the need of Nature and sentient beings. From there we learn how best to help the land there and the local people to optimize their innate life energy. We also employ education as a catalyst for changes to strike a balance between different needs of Nature and humankind, by successfully developing running waterways alongside the way of the heart, figuratively speaking.
We look forward to your joining us in this benevolent undertaking, so that the good mindfulness will spread to all corners of the Earth, and everyone does his or her best in helping to sustain the Earth, and helping other sentient beings co-existing with us.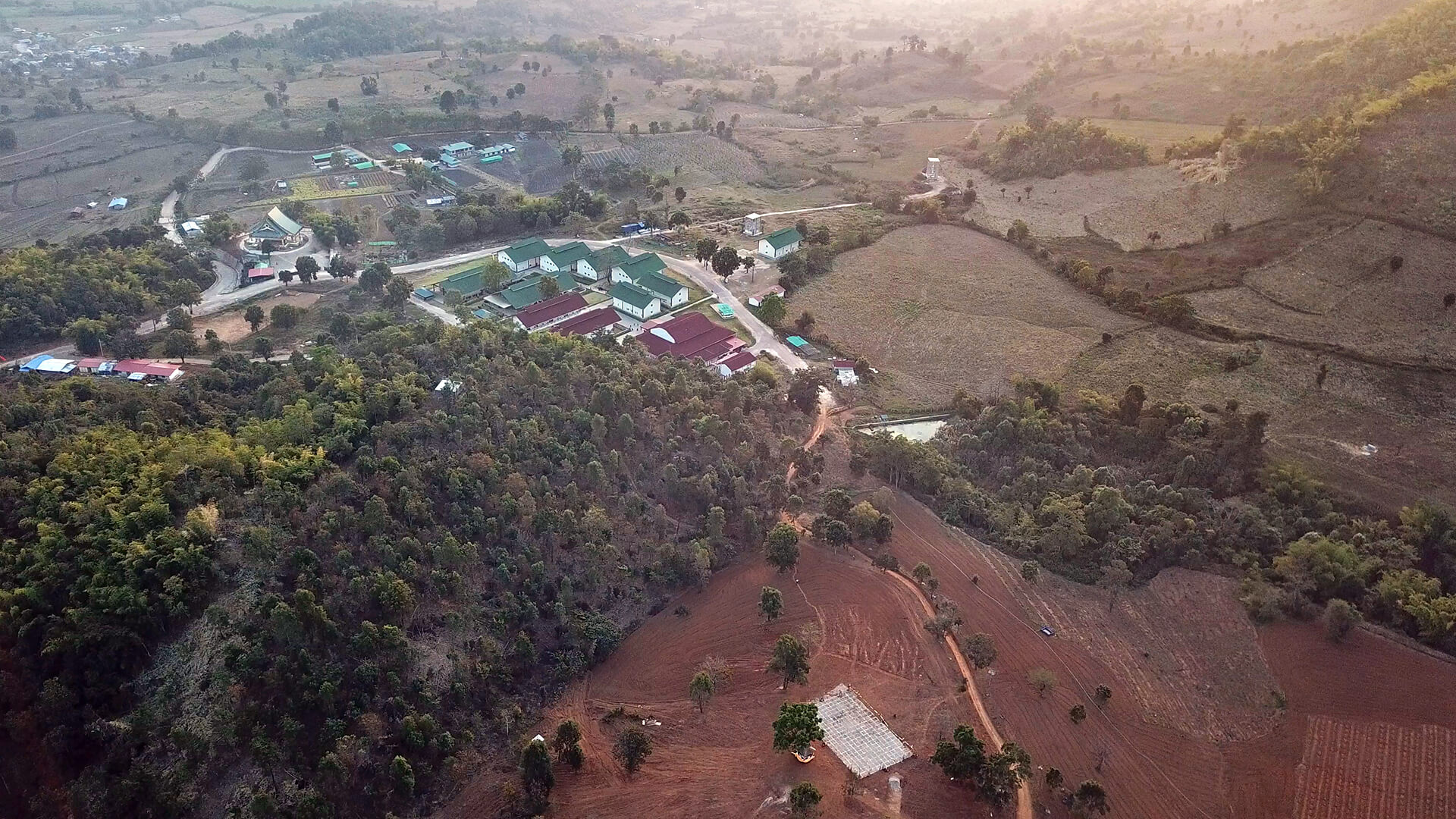 The Naung Mon Farm
As one key part of the Ling Jiou Mountain's (LJM) education programs for Myanmar by its NGO - the Global Family for Love and Peace (GFLP), the Eco-Farm is located in the Naung Mon county of the Shan State-North of Myanmar. The initiative aims at offering jobs to farmers in the disadvantage by virtue of eco farming and by the principle of not competing for profit. The business philosophy of the Naung Mon Farm places emphasis on staying pragmatic, human-centered, and self-guiding. It took four years of planning and preparations for the initiative to launch, which marries education and improvement of life quality and as such is a multi-purpose integration program that affords local farmers the opportunity to finally rid themselves of poverty and go for new hopes by becoming sufficiently self-reliant.
After years of planning and preparations, the Naung Moon Eco-Farm project secured the support of an international 'Seed Program' in April 2005, and started actual plantation in 2006. A barren field thus turned into a flourishing greenland, which not only helps the villagers to become self-sufficient but supports near-by farmers with their harvesting. Development plans of the Naung Mon Farm are not to just grab resources from Nature at will, but to focus on the cultivation of high-value crops and the sustainability of the farmland by conservation of water and land. Examples include: keep intact the Eco-Farm's natural habitat, organic farming, teach the local farmers the best skill sets and know-how for environmentally friendly farming that yields output such as essential oils of rock bluegrass, lemongrass, jasmine, and roses.
Fair trade is observed and practiced to warrant the best possible returns for life to stay away from multi-tiered exploitation. In fact, GFLP's international advisors have been working closely with local Burmese experts of development in integrating the Eco-Farm's operating mechanism into hands-on for local farmers to enrich their diversified learning. The output of the Eco-Farm like rice and other produce can provide foods and emergency relief help for those who lost everything in famines and other natural disasters in a war-torn Myanmar.
Local farmers who in the past didn't know better and were limited to shallow surface farming due to a lack in knowledge of running agriculture, as well as those tenant farmers pressurized to grow illegal crops at the cost of their own risks, have gradually become able to plan a future quite theirs via the Naung Mon Eco-Farm that connects global goodwill and support thanks to the co-operation between LJM's GFLP and international organizations. Local farmers have thus found a stable and satisfying life on the Farm and begun to gradually reach financial adequacy. Moreover, the beauty of a co-existence with Nature has manifested a well-rounded value of life's meaning for them. If the opportunity presents itself for you to opt-in for a charitable trip to the Naung Mon Eco-Farm, you will be more than pleasantly surprised to take in the beauty of landscape there in a quiet symphony of Nature.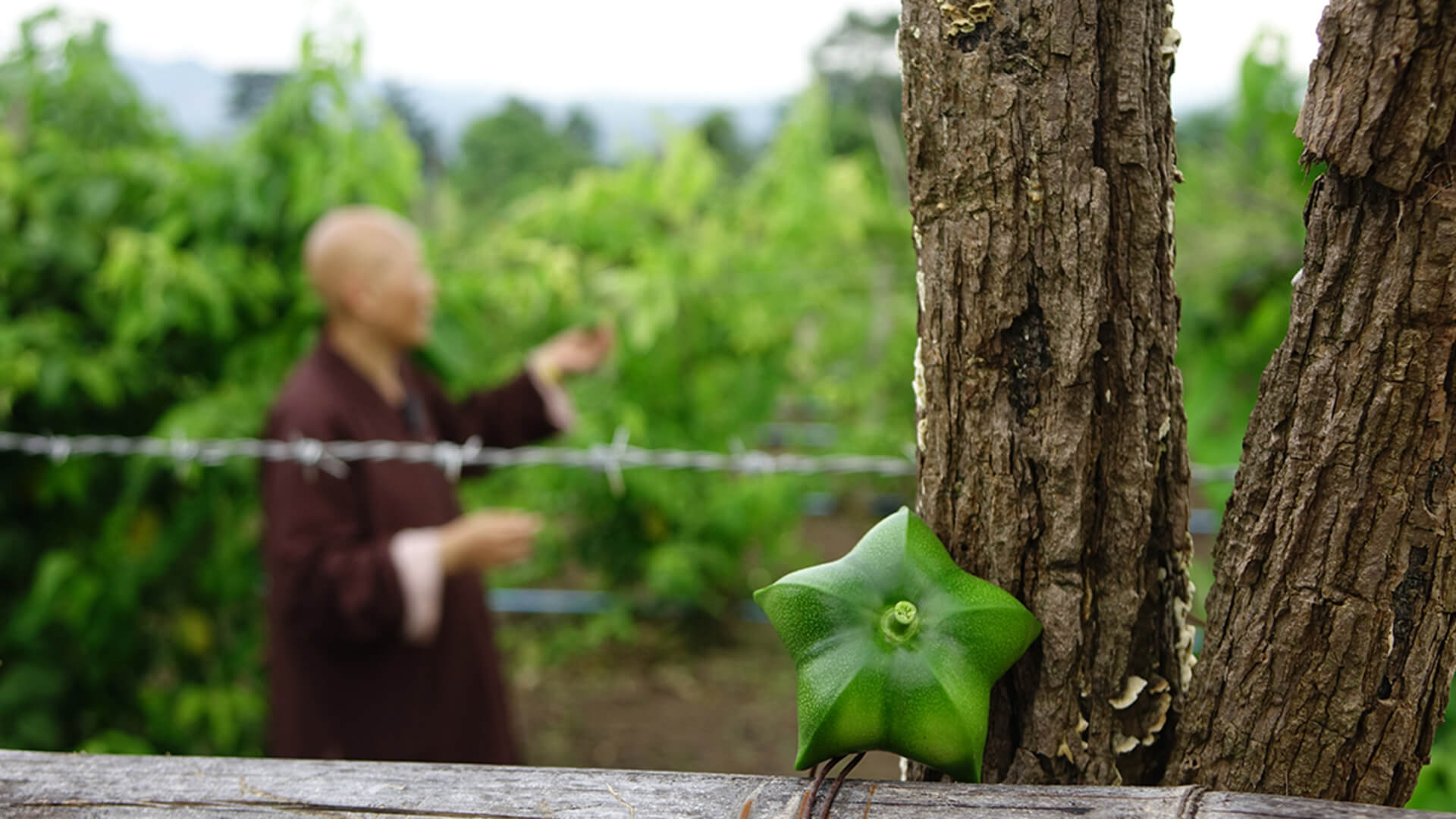 DaShanYuan Temple in Symbiosis with Nature - LJM's Teaching Farm at NaungMon
Upon entering the NaungMon Teaching Farm at the DaShanYuan Temple (Mahā Kusalā Yāma Monastery), you realize that it is the teaching area of an organic farm on its way 'back to Nature'. Master Chang Le (meaning 'always happy' and true to form he was often full of smiles) then took us on a guided tour, and we got a good look at the adjacent land surrounding the DaShanYuan Temple in its original virgin state. We saw rows of hills, and paddy fields were seen together with green wilderness, then we recalled the blueprint we had seen which shows constructions neatly interwoven into the landscape to live up to the guiding principle of a 'diversified symbiosis'. The buildings will include the Shrine for the Sitting Buddha and Reclining Buddha, the Shrine for GuanYin (Avalokitesvara), the Women's College and dormitory. Here the Sramanera or novice monks will not only study Buddhism, but they will be maturing in an environment where our signature 'Education on Life' is what they breathe, see, feel, learn from and grow up with. It is hoped that they will be the seeds of good that spread love, life, and peace around.
In striking a balance between nature and farmland, there are areas inside the NaungMon Teaching Farm designated for rice field, and greenhouses for incubation and pre-plantation for all sorts of plants, with the overall plan of the organic farm in observation of environmental protection. Master Chang Le specifically pointed out that the acquisition of farmland in Myanmar follows rather peculiar game-rules that boils down to the 'First come, first served' principle. When an area of unfenced land has stayed idle and not attended to for longer than 3 years, any trespassers can move in to 'occupy' and claim ownership, resulting in a scenario even legal prosecution is to no avail. It is simply how things work in Myanmar - by implicit consensus dictated by social code. Indeed, we actually did see cement pillars erected on hill land, ready for barb-wired fencing sometime in the not too distant future manybe.
Master Chang Le further offered to inform that farmers in the neighborhood grow large numbers of corn which is a concern. Corns are light-root corps that are not friendly to soil and water conservation, and the top layer of soil gets scraped off from time to time as they quickly turn 'barren' as a corn field. Besides, chemical fertilizers and pesticides are used and that is detrimental and hazardous to human health. With our teaching farm, we hope to demonstrate how it can be done more sensibly while being environmentally friendly and sustainable. Take green beans for starters. We sow the beans and and turn the soil as soon as the beans sprout, and the sprout becomes organic fertilizer that is way more economical as well. It is our hope that the concept of symbiosis with Nature can help turn things around and back to organic farming. Master Chang Le was visibly quite conscious about his challenging responsibilities, yet we were more impressed with his care and love for the world and for life, and more importantly, for the soil under our feet. Looking back and in hindsight, and given how GMOs have negatively impacted the global food chain and people's food safety, Master Hsin Tao's vision and farsight easily stand out by their manifestation in what the LJM Buddhist Society has been accomplishing under the 'Love the Earth' banner aimed at protecting the environment and purifying our heart and mind.
In the incubation greenhouses there are many different kinds of vegetation and plants, and particularly worth mentioning is that there are quite a few local plants that are wild and grow fast and well. Such are precious gifts sent by Heaven and ought to be conserved. Case in point: wild mint that grows to blanket large areas and is easily accessible. Plantations inside the Teaching Farm are all purpose-oriented. There will be 5,000 Burmese Teaks to enhance the Farm's privacy, whereas the rice field and vegetable area for quick turnarounds help make sure that the Farm stays self-reliant.
Furthermore, there are areas designated for local herbs, lemongrass, MeiTengGuo (Plukenetia volubilis Linneo, or American Rattan Fruit, aka Star Fruit or Inca Fruit) etc., for food consumption, health, and medicinal purposes. Essence of oil distilled from the lemongrass there works well as insect-repelliant against mosquittoes. MeiTengGuo, in particular, is a plant high in yield and in value. Base materials, for instance, can be obtained from its fruit shell and leaves for soaps good for skincare. Its nuts are rich in nutrient Omega 3、6、9 that makes excellent kitchen oil for salads, cold cuts, and dishes that require no cooking to avoid temperature spoilage. The MeiTengGuo nuts also work well as nutrients helpful with cases like diabetes, hypertensions, and memory repair and improvement.
Master Heng Ming, meanwhile, introduced us to an area where sweet potato and parsley grow mixed together for demonstration purposes: the aroma of parsley keeps worms away and the organic farming tip takes the pesticides off the list, whereas the very same concept gave people the idea to produce natural enzymes from kitchen leftovers from plants that can be used in detergents for dishwashing, sewage cleansing, as well as air sprays to ward off bugs. In short, the showcase displays how going back to Nature merits and can well be our way out from all the man-made environment pollutions.
If the School of Sramanera can be viewed as Showcase 101 for 'Education on Life' to take deep rooting locally, then the NaungMon Teaching Farm is literally a physical demonstration of how concepts like respect, symbiosis, and appreciation can be concretely and convincingly manifested, namely by truly understanding the land and its people and get into sync with Nature, so that 'providing for each other and harvesting from each other' becomes mutual and benevolent long-term.
'Loving the Earth / Loving Peace' is not just slogan you chant, but down-to-earth action you take. And if we take the example of the NaungMon Teaching Farm further and imagine people elsewhere, in similar ways, can easily brew a pot of tea with suitable plants picked on roadside, or that visitors to other organic gardens can savor fruit salads with dressing all home-grown to feel blessed and grateful to the Earth and to life itself. We look forward to creating and repeating such experiences for compassion and good karma, and to forge ahead towards the goal of a peaceful co-existence for all countries and people in the world, and for a diversified symbiosis for Nature and all sentient beings.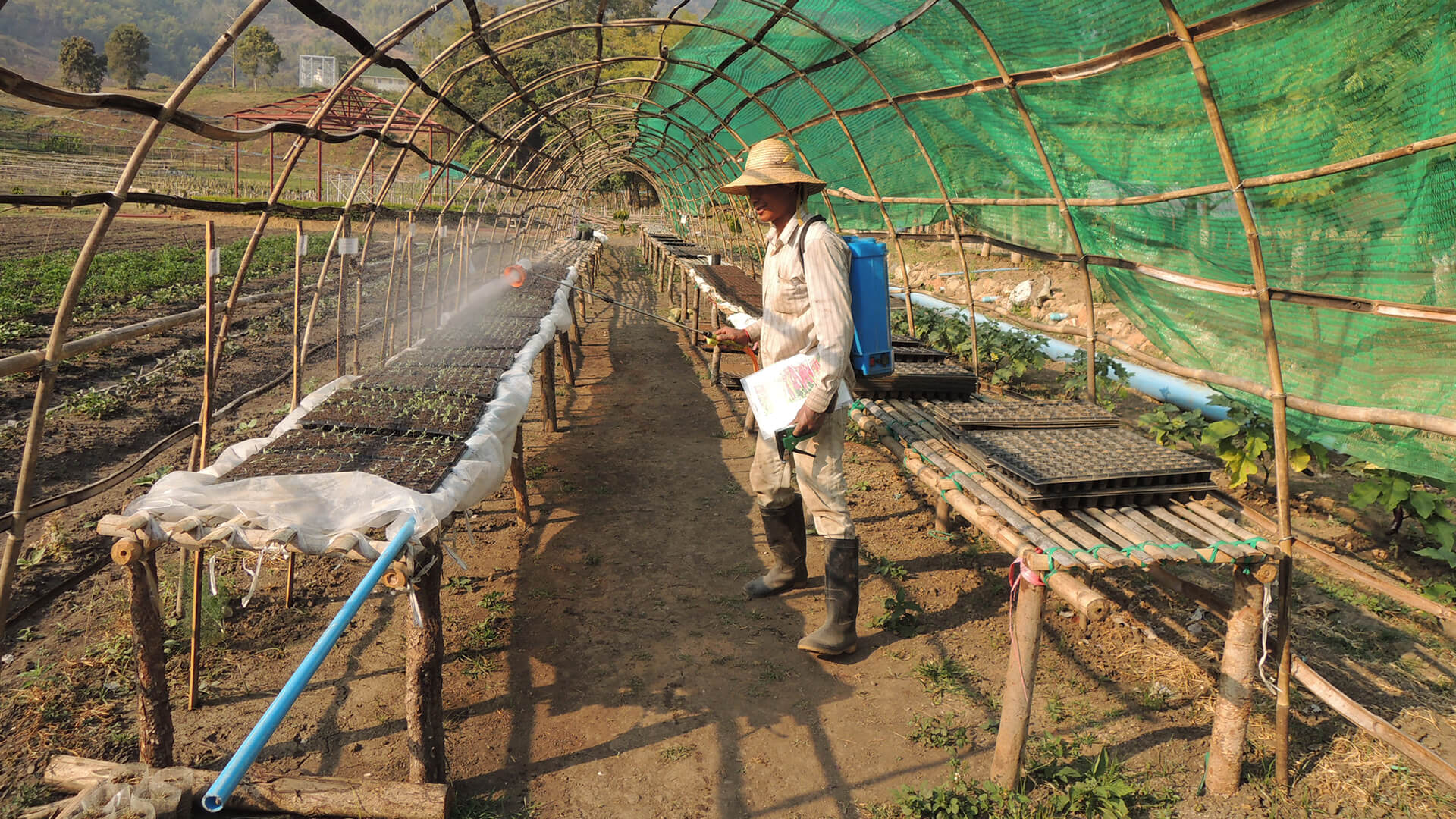 Ling Jiou Mountain's "Love The Earth" Campaign finds Embodiment in its Organic Farm at Naung Mon
Ling Jiou Mountain (LJM) operates the Naung Mon Farm, which is located in the mountains at the juncture of the Naung Mon and the Keh Lin villages to the side of the Yunnan-Burmese Highway near Lashio in the Shan State in northern Myanmar. The place used to be a barren wasteland occasionally used for growing poppies. And it was thanks to the wish for good karma on the part of the Founding Abbot of LJM, Dharma Master Hsin Tao, that the Naung Mon Organic Farm came about for consequent development over time. Numerous challenges ranging from land law issues, improvement of the soil, pest hazards, to a shortage of manpower, etc., needed to be addressed for solution. The hardship is always best appreciated by those who were there at the time.
Master Hsin Tao was born in northern Myanmar and was a child soldier against his will, who witnessed wartime horrors and mercilessness. He came to Taiwan at 13 as part of the 'Solitary Army' left behind in WWII in Southeast Asia and managed to create the Wu Sheng Monastery that upholds 'Compassion and Chan' for principle in spreading the Dharma to benefit the general public. When the right time came and the Master made a return visit to Myanmar to establish a school of Sramaneras that accepts orphans and children of poverty and teaches them the way of Buddhas and Bodhisattvas in breeding future Sanghas. The organic farm is another key part of the Master's ultimate goal of creating a self-reliant ecosystem centering around a university town, which itself will then be an eloquent manifestation of the LJM's endeavor to 'Love the Earth' and 'Love Peace'.
Headaches upon Headaches, and Challenges follow One Another
When it comes to the land type in the Shan State in northern Myanmar, red soil is relatively agreeable, but mostly it is soil mixed with limestone, boulders, and sand, and lacks in trace minerals while the land sheet is shallow with further issues of irrigation and acidification. It is already demanding to grow normal, average economic crops there, let alone to cultivate organic farming.
Executive of (NM Organic) Farm,Dharma Master Chang Le is in charge of the Naung Mon Organic Farm and explained for us how the locals went about farming traditionally. They would just set fire to the plants before the rainy season for the ashes to act as the basic fertilizer when the land was turned and the seeds sowed. The plants would grow following the rain, and the locals would apply large amounts of pesticides and chemical fertilizers to grow crops while 'handling pest controls'. And to avoid extra labor required for weeding, hazardous pesticide like Paraquat was used in large quantities that rendered the farmland toxic and severely damaged.
Organic farming is demanding in that it categorically forbids the use of pesticides and chemical fertilizers in the course of growing the crops naturally. The tasks are daunting and can be downright frustrating, and you can only then fully appreciate the challenges if you live through the experiences. Prior to August 2017, normal crops grew alongside weeds, which presented a minor problem, but the pests often almost ruined large areas of crops before they had a chance to mature and reach fruition.
Tackling the problems on multiple fronts, but improving soil quality was task
Dharma Master Chang Le, therefore, decided to tackle the issues head-on by starting with the improvement of the soil quality. Parallel tasks included the production of organic compost and liquid enzyme fertilizer, the cultivation of green manure of legumes, soil improvement via micro-organisms, etc. The ambitious plan would take at least 3 years and an enormous amount of manpower to stand a chance of success. An analogy would be the sewage system of an urban plan - invisible to the naked eye, but a fundamental utility of a city.
To improve the soil quality proved to be both time-consuming and labor-intensive, while the farm as a whole needed to proceed as 'business as usual'. It was a normal sight that workers busied themselves with their respective work under the scorching sun and drenched in sweat, while carefully attending to the growing of the crops. The farm's insistence on staying organic allowed room for pest hazards in early years and it remained a recurring nightmare that pests just swarmed every morning after you sacrificed the sleep and debugged until dawn the night before.
To eradicate the pest hazards, Dharma Master Chang Le decided to opt for an insect repellent formulated solely with biological and mineral ingredients without the addition of any chemical agents to stay the course of zero pollution. Such tall order and hard work, however, did not necessarily spare one the frequent heartache to see fruit trees badly damaged by pests. Besides, unfamiliarity with local land laws and hostile vandalism by some residential farmers in the neighborhood often rendered the hard work futile and they were back to square one and needed to start all over again. The morale was understandably depleted at times in earlier days.
Time-consuming, labor-intensive, and patience-demanding, all in the name of 'Loving the Earth'
The Founding Abbot of LJM, Dharma Master Hsin Tao often stresses that "the ecology in its entirety, people and things alike, is interrelated in a chain mechanism. It tilts towards disarray if damage is inflicted to a certain part of the chain and a gradual destruction sets in." One is furthermore reminded of the ultimate LJM principles of 'Compassion and Chan', where the great compassion actually reaches beyond people and all sentient beings, and it begins with a friendly and benign mindset towards the land right beneath our feet. The above and the triple vision of LJM in 'eating only agricultural produce', 'stay vegan and consume only what's necessary', and 'Chan is food for thought', have been the strength and support for a nearly 70-year-old Dharma Master Chang Le to persevere and forge on in the face of frequent challenges, hardship, humiliation and frustration time and over again.
To run and manage an organic farm away from home means you must overcome challenges that come with the land, as well as those with the people and the environment. Language barriers, distribution of labor, legal and managerial issues, and duties of operations, marketing and sales, and the list go on. They are all checkpoints and tests, and Dharma Master Chang Le managed to set up a system that relies on the principle of 'train the trainers' and employs trained locals to manage local rank and file. The Naung Mon Organic Farm was by then finally ready to kick into gears.
Organic diversification & functional plantation
With Dharma Master Chang Le in charge of the Naung Mon Organic Farm, efforts began in 2017 to grow in large patches of area Inca fruit, Paleo tea plants of Yunan, bitter tea plants of Taiwan, a variety of tomatoes plus herbs and vanillas of different kinds like catnips, Pyrethrum, aromatic marigold, rosemary, etc., in addition to lemongrass, vetiver and corn that had always been grown on site for considerations of pest control in most cases.
To meet the need of future landscaping purposes, seedling sheds were set up in the rear mountains for young trees of Aquilarwood, white Indian sandalwood, lobular Indian rosewood, Burmese teak, rosewood, Dalbergia, cypress, Ashoka, Burmese cherry tree, Cassia fistula (golden shower tree), blue Jacaranda, Delonix regia (the flame tree), Mesua ferrea (ironwood), etc.
Dharma Master Chang Le had known little about botany and management of farming and its operations, and is therefore grateful to people who initiated her into organic farming, like Friendly Earth's COO, Yang Tsong-Guei, and many other field experts who traveled to Myanmar for hands-on tutoring, such as Zheng Xing-Lu, Lin Zhen-Gu, Ju Chang-Shan, and TCM (traditional Chinese medicine,Beijin) expert Prof Ding. Dharma Master Chang Le also studied hard to learn about the subject matter which is no longer Greek to her. Insects do not rattle her as they used to and she goes about her business as a quick study and fast learner with plans and determination. For instance, she plans on using grow tents to cultivate short-term crops for quick turn-around's, so that local farmers have a larger range of options to choose from for what they desire to grow individually.
With initial success secured, the farm hopes to showcase organic farming for northern Myanmar
Dharma Master Chang Le pointed out that they very much look forward to the returning of earthworms, frogs, dragonflies, and birds to inhabit the farm. Moreover, they hope that birds of prey like eagles and hawks would show up as well - which will be a clear sign that the ecosystem there will have been restored in full.
With regard to the farm's future, it is hoped that Taiwan's top-notch processing know-how can be introduced to Naung Mon for the production of cold-pressed oil, extraction of oil essence, and sun-dried fruits with no additives to upgrade local crops in the value chain. It is further hoped that the farm will function as a catalyst to propel local economies and lead by example so that local farmers will follow and switch to organic farming long-term.
Particularly worthy of mention is the Inca Inchi(Plukenetia volubilis) that is rich in Omega-3. Having already been touted as a super food, it is also known as the Inca peanut or the oil rattan of South America. The farm has been enlarging the land area for its plantation, and its economic value has been greatly enhanced with the Inca Inchi oil becoming a popular star commodity.
Dharma Master Chang Le has employed a natural methodology of farming to enliven the land while introducing organic agriculture and earth-friendly plantation to the locals. Furthermore, protection for hillside slopes (to curb landslide) and the improvement of know-how for seeds and soil betterment are all in progress as part and parcel of the farm's achievement. Ultimately, we look forward to the day when the seed of good karma for the LJM dedication to 'Loving the Earth' blossoms to fruition in Naung Mon.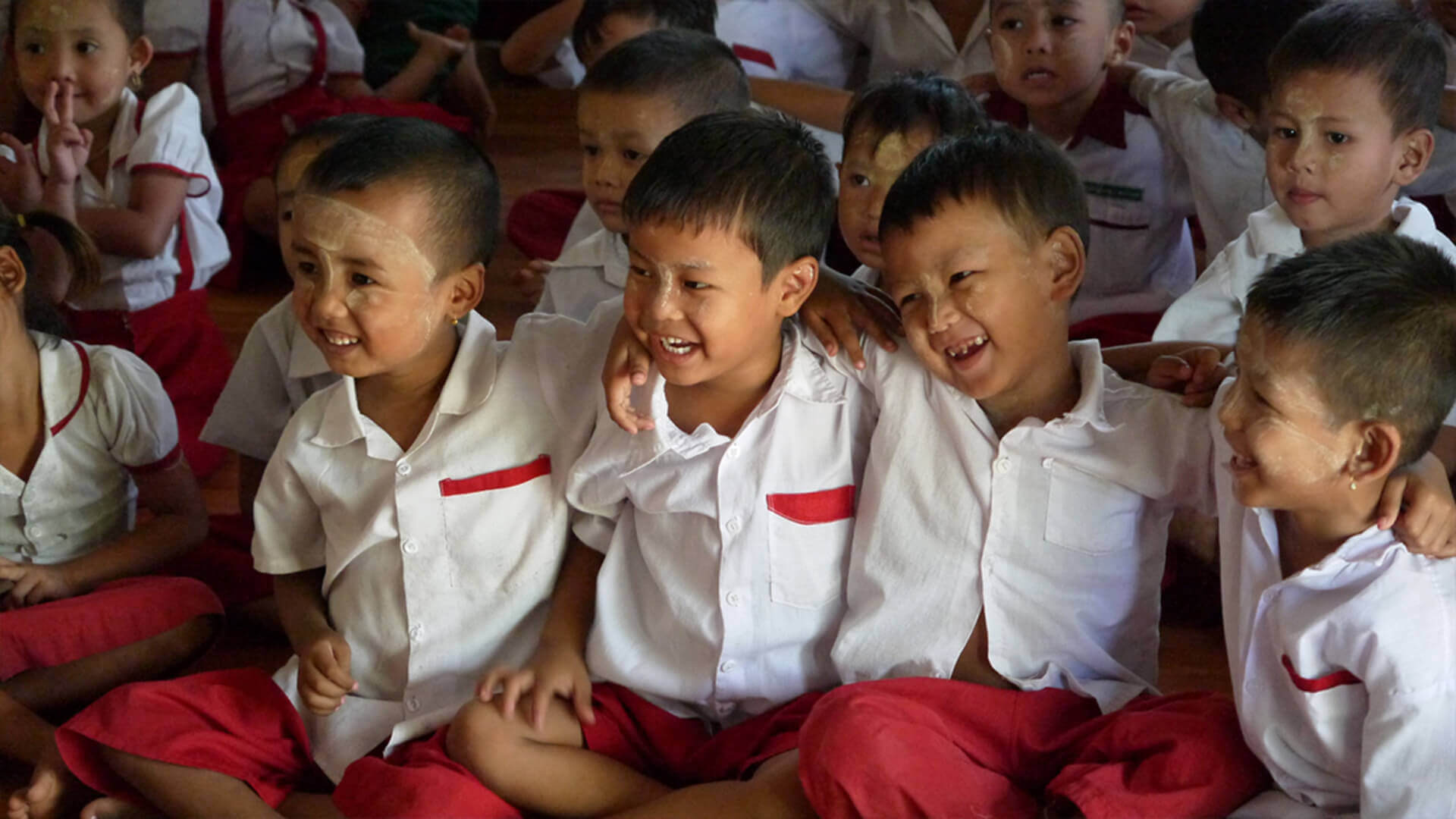 The Monsoon Rains Da Yu Day-Care Nursery
As a southeastern Asian country, Myanmar has a tropical monsoon climate and 3 seasons for the year, namely dry, rainy, and cool. For the local agricultural society, the rainy season translates the year's busiest time for farming, and infants and toddlers suffer a severe lack of parental care as a result. Survey findings of the United Nation's Children's Foundation show that (Myanmar's) child mortality rate skyrockets an astounding 7-fold during the rainy season for children up to 5 years of age in comparison to non-rainy seasons. While adults work hard for a livelihood in the farmland, small children get sick or come in harm's way due to lack of supervision and care has become a gut-wrenching scene all too common in farming villages across Myanmar.
Fortunately in 2004, the Ling Jiou Mountain's (LJM) NGO - the Global Family for Love and Peace (GFLP) jumpstarted the draft for its 'Da Yu (Torrential Rain or Monsoon Rains) Plan' for Myanmar with the support in the form of a Whitepaper investigation by the United Nation's Children's Foundation. The first-ever Monsoon Rains Da Yu Day-Care Nursery was then launched in June 2006 for the Qin Qian Village, Guo Mu Township, in Yangon. Unveiled with the blessing of the United Nation's Children's Foundation, the day-care nursery was built on the lot provided by the local community monastery, with all operating expenses and personnel training shouldered by a task force of the LJM's GFLP.
To the financially challenged families in the villages, the presence of a Monsoon Rains Da Yu Day-Care Nursery for free, professional child nursing for each and every remote village throughout the country would mean a straightforward and most practical benevolence of the bodhisattva manifested for their world in the present life. Local schools with their teachers and the monasteries with their resources can be pooled for optimal effect. The children are cared for in the development of their mind and intellect besides receiving food and medical and hygiene attention. The day-care nurseries are the one community service most urgently needed by parents of all farming villages. They have indeed become a major social services institution that bundles education and caregiving for the local community.
For the obvious effect that can be counted on, when the Venerable Chan Master Hsin Tao initiated the education and nursing project, it received strong support from both the Myanmar government and the local monasteries, granting the GFLP a special NGO status with a sole permit to establish Educational Insitutions. The extraordinary honor represents formal recognition for our efforts in promoting the Monsoon Rains Da Yu Day-Care campaign. It also reflects that the adversities we encountered along the way have been neutralized for the nurseries as an embodiment of positive mindfulness of the world to show its true beauty and power. Like the beautiful scenery we behold with the pristine blue sky after rain, set against flourishing paddy fields, filling our ears with sad songs of miseries no more, but happy children's melodies full of warmth and laughter.